Posted:
December 9th, 2014 |
Author:
Corin
|
Filed under:
Poetry
|
Tags:
Molly See
,
Poetry
|
No Comments »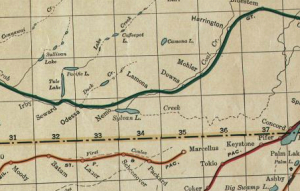 My teacher was compiling a list of Oregon poets and my aunt, Molly (Carr) See came to my mind–she was brought up in Hood River so clearly counts as an Oregon poet, even if she spent more of her adult life in Washington state. I looked online and aside from the usual irritation of searching for anything with "See" in the search string, I couldn't find any of her poems online. This seems a shame, as she wrote some beautiful poems. Here's one:
Driving a highway in Eastern Washington
Odessa to Harrington,
lonesome songs.
Field stubble,
cloud ripple,
shadows of grey and yellow.
Bottom lands flat as if they'd been sanded.
Fields fallow
done for the year,
combed up in waves, warm, brown.
Once in a while
lost in the hollows,
a town.
---